theguardian  Larry Elliott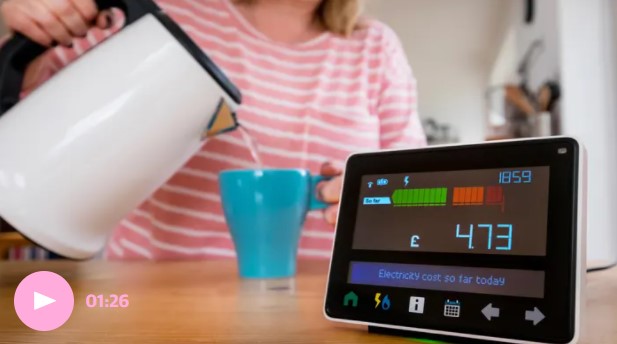 A one-off repayable £200 discount and a rebate on council tax bills have been announced by Rishi Sunak in a £9bn package designed to "take the sting" out of a £700-a-year rise in the average household's energy bills in April.
The chancellor said 80% of households would receive £350 in support this year in response to the decision by the energy regulator Ofgem to raise its price cap to just under £2,000.
In an attempt to mitigate Britain's cost of living crisis, Sunak said:
All households would receive £200 off their energy bills in October – but then pay the discount back by £40 a year over five years from 2023

Council taxpayers in England in bands A to D would receive a rebate of £150 from their bills in April, which will not have to be paid back.

Local authorities would receive £150m to make discretionary payments to the neediest.

The number of poorer households eligible for the warm homes discount – worth £150 from October – would be increased by a third to 3m.
"Without government intervention the increase in the price cap would leave the average household having to find an extra £693. The actions I'm announcing today will provide to the vast majority of households just over half of that amount, £350," Sunak told MPs.
"In total the government is going to help around 28m households this year. Taken together this is a plan to help with the cost of living worth around £9bn."
The Treasury will make £565m available to share between the devolved administrations in Scotland, Wales and Northern Ireland, which they can use as they see fit to cut council tax. Northern Ireland will get an extra £150m to spend on cutting energy bills.
He said the fourfold increase in the global wholesale price of gas meant the energy price cap had to rise, but added: "We can take the sting out of this significant price rise for millions of families."
The chancellor said a council tax rebate was more generous and better targeted at less well-off households than the cut in VAT on energy bills proposed by Labour.
Rachel Reeves, the shadow chancellor, said under Labour's plan there would be £400 in targeted support for the poorest homes, as well as £200 in general support for most households. The poorest families would be largely protected from the increase in bills from April.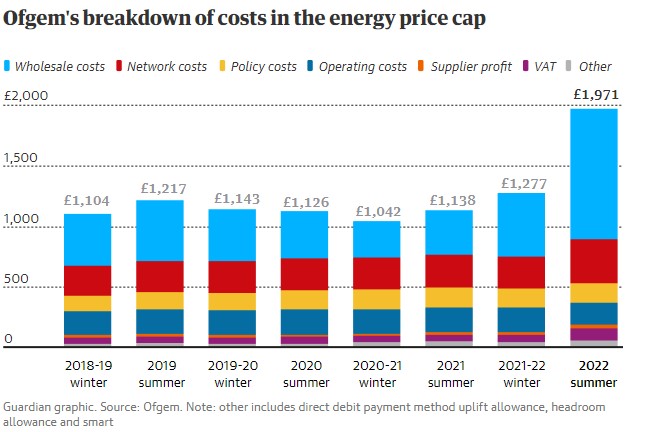 "The chancellor wants to load costs on taxpayers with a buy now, pay later scheme – while Labour will keep bills low with a windfall tax on North Sea oil and gas producers with booming profits," Reeves said.
"In the midst of a cost of living crisis, the government's proposals will leave families in Britain paying hundreds of pounds more as a result of the breathtaking rise in energy prices. It will be of little comfort to many."
The Scottish government said the £290m it is expected to receive was too little to cope with energy poverty in Scotland. Michael Matheson, Scotland's energy secretary, said the Treasury needed to do far more, including removing VAT from energy bills.
Adam Scorer, the chief executive of National Energy Action, a fuel poverty charity, said: "We needed deep, targeted support for the most vulnerable. We have shallow, broad measures for all. That simply does not work."
The charity warned that the depth of support offered by the Treasury's package of measures was not proportionate to the financial toll which is expected to drive the number of UK households living in fuel poverty to the highest level on record by this spring.
"A household paying by prepayment [meter] will still have a £500 increase when you take into account rises from October 2021 and April 2022," Scorer said. "We expect the government will have no choice but to return to the issue of spiralling fuel poverty and another price rise later this year."
Frances O'Grady, the general secretary of the TUC, said: "The chancellor's announcement is hopelessly inadequate. For most families it's just £7 a week and more than half must be paid back. It's too little, it's poorly targeted, and it's stop gap measures instead of fixing the big problems."
Struggling businesses and manufacturers have been pressing Sunak for help, saying soaring costs are making their products uncompetitive. His package, however, contained no help for companies.
Hannah Essex, the co-executive director of the British Chambers of Commerce, said businesses would be "dismayed at the lack of support for those firms also struggling with their energy bills. Many have already been hit by steep rises, with further significant spikes expected as existing fixed tariff contracts come to an end in the coming months."
Mike Cherry, the national chair of the Federation of Small Businesses, said: "The government is right to help households with rising costs. It should be helping the smallest firms too, which face many of the same challenges as consumers in the energy market, but without the same protections.
"The household rebate should be matched by an equivalent business rates rebate, to help the smallest firms which have been weathering these price increases for months already, and which desperately need a measure of protection from the energy crisis storm."