In the crucible of the 2008 financial crisis, a burgeoning – and unlikely – property company was taking shape. Zoopla occupied a warehouse in Acton and, in keeping with the stereotype of upstart tech companies, had a ping-pong table for its 15 employees.
As the company grew and it moved offices, a ping-pong table was always installed in pride of place. In its current office, the table is emblazoned in purple Zoopla livery, embellished with the ubiquitous "Z" logo.
Alex Chesterman, the company's founder, has overseen one of the fastest-growing British tech businesses of the past decade. Few could have predicted what the listings website might become at the time of its founding, when house prices had tumbled and the property market ground to a halt. But not so the confident Chesterman. "I put the business plan together and raised the first funds in 2007, just before the crisis," he recalls. "In 2008 when I was looking to raise more funds, I would say: 'It's for a property business in the UK.' People did look at me like I was a little bit crazy."
Fast-forward almost 10 years and Zoopla, a property marketing website, has become ZPG (Zoopla Property Group), a one-stop shop behemoth for consumers looking to buy a home, get a mortgage or change energy suppliers, among many other services. Chesterman has done this by building businesses in-house and making acquisitions of proptech and fintech start-ups, snapping up 15 companies, such as uSwitch and Money.co.uk, and bringing them under ZPG's wing.
"If you go back and pull out our original business plan from nine years ago, the business today very much reflects exactly what our vision was," Chesterman claims. "It was always our idea that what we wanted to do was help people around that property journey and life cycle and not just help them find their next home but effectively manage it."
In 2014, the company floated, earning Chesterman around £32m, while Daily Mail and General Trust, which now owns around 30pc of shares in the company, pocketed £130m from the IPO. Last year, ZPG made a pre-tax profit of £46.2m, up from £33.6m in 2015.
But the expansion has not been without its hiccups: ZPG overcame a threat from the Competition Commission when it merged in 2012 with FindaProperty.com. More recently it lost property listings as another upstart portal, OnTheMarket, said that its estate agent customers had to choose between listing on Zoopla and the other main property portal, Rightmove. It is often compared to its rival, but ZPG represents a completely different proposition.
"If you go back five years, 100pc of our business was in digital property marketing," says Chesterman. "Today that's about 25pc. We're an incredibly well-diversified business."
This means that it brings eyeballs to the site and its services: when someone might nosily click on to Zoopla to check out a neighbour's house price, they may also decide to change energy or broadband supplier. But it also means there is less risk; it can better weather any potential storms.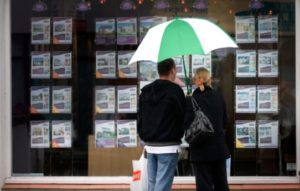 The property portals are also far removed from the volatile markets that they serve, because they rely on revenue from listings, not sales. Zoopla has existed during a period of relatively modest levels of property transactions, and this side of the business has continued to grow despite there currently being the lowest number of homes for sale on record. "No one area of our business accounts for more than 20pc, for example, and no one customer accounts for 1pc," he says. "There's less that can go wrong."
There is one thing that might give him some sleepless nights, however: Jeremy Corbyn. The Labour leader's plan to renationalise the energy industry, says Chesterman, is "not great for a business like ours that is championing competition and the lowest prices for consumers … a lot of talk like that makes a good political sound bite," he says, "but the outcome is not good for consumers."
Chesterman charts ZPG's expansionism with the ability to locate and solve "pain points". "If you go back 20 years, looking for a property meant visiting 12 high street branches or looking at newspapers. That pain point has been completely solved by putting them all under one roof with all the associated data." That even includes the favoured newspaper of a potential new neighbourhood, as well as nearby schools and broadband speeds.
Earlier this year the company acquired Trussle, an online mortgage broker, which attempts to cut out the leg work and paper-heavy application process by using an algorithm; it also snapped up Hometrack, a property data analytics firm, and it's in this data that Chesterman sees much of the future of proptech.
"We take a long view of how the world might change," he says. "We don't necessarily have to know the answer or know where the market is going, but what's interesting is asking will we still be doing things in that same way as we're doing them now in 10 years, or is that a space that is likely to be innovated around and disrupted?"
ZPG, despite being worth a little under £2bn and employing 1,000 people, still acts and thinks of itself as a start-up, nimble on its feet. The office is a testament to that: every area is based around a room in the house, with meeting rooms set up as a mock sauna and a bathroom, the tabletop resting on a rolltop bath. Chesterman is cagey about what he is targeting for the next acquisitions, but warns that "we're not done", while also hinting he could be tempted into other countries.